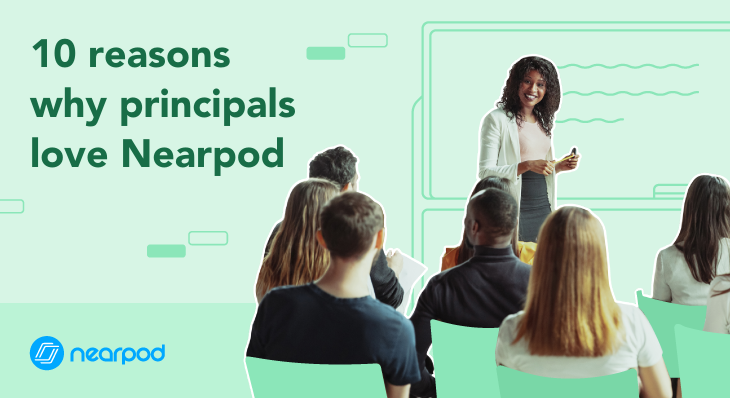 10 reasons why principals love Nearpod
There are so many resources being thrown at principals, whether it's coming from teachers, parents, central office, or marketing emails. Seldom do principals encounter a resource that can be used by everyone in the building, including themselves! It's even more rare when teachers across grade levels and subjects seem to be genuinely excited and enthusiastic about the resource- cue up Nearpod! In a nutshell, Nearpod creates a two-way street between the teacher and student, or the presenter and their attendees. This two-way street opens up a myriad of ways to engage, teach, and assess our students or adult learners. Now that you know the gist of Nearpod, let's dive deep and look at ten reasons principals love Nearpod.
1. Leveling the Playing Field
As principals, one of the great challenges is ensuring high quality Tier 1 instruction across classrooms. Teachers usually have access to a scope and sequence and a textbook, but the day-to-day responsibility to bring the standards to life for students still largely falls on their own ability, experience, creativity, and so forth. Nearpod features over 15,000 ready-to-use lessons, activities, and videos, for all subjects and grade levels. This creates a learning environment where every teacher, at the very least, has access to a high quality, standards-aligned "starting point" for their lessons.
2. Curate from the batch, customize and attach, or create from scratch
While the ability to "curate" from the 15,000+ ready-to-use lessons, activities, and videos is amazing and undoubtedly makes life easier for teachers, the ability to "customize and attach" truly allows for differentiation and personalization. As principals, we preach differentiation and personalization to our teachers all the time, but these two concepts can be difficult to support through resources and implement in practice. With Nearpod, teachers can take any Nearpod lesson and make it their own, based on the needs of their students. They can do everything from add/delete slides, videos, media, assessments and more. Furthermore, teachers can also use Nearpod's 20+ media and assessment types to create a lesson completely from scratch, or enhance a lesson they created in Google Slides or Powerpoint.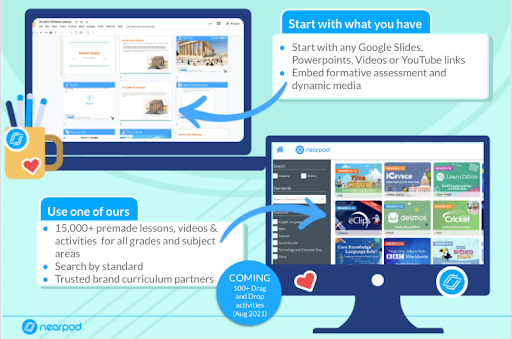 3. Standards Alignment: Where did you get that lesson or resource?
The 15,000 ready-to-use lessons, activities, and videos really alleviate a huge challenge and question we often have to ask as principals: "where did that lesson come from?" It's hard to complain about teachers spending their evenings and weekends searching the internet to find lessons and resources that will engage their students, but it also creates uncertainty around quality and standards-alignment. Nearpod's lessons are created with the various state and common core standards at the forefront, and oftentimes in collaboration with other trusted publishers you know: Amplify, PHET, iCivics, Common Sense, and Smithsonian to name a few. Teachers can easily search the Nearpod library for lessons, videos, and activities by state, subject, and grade level standards, all the way down to specific strands.
4. Systems Integration – Does it work with what we already use?
The last thing principals want to do is add a resource at their campus that makes teachers feel like it is "just one more thing." Usually the sheer amount of ready-to-use lessons and media and assessment types will already have teachers full of excitement, but once they realize the various integrations that exist, they'll truly begin to see the value of Nearpod as part of their school's larger ed tech ecosystem. Whether it's Canvas, Schoology, Google Classroom, or more, Nearpod has you covered. And, let's be honest, an LMS can be quite the monetary investment. If Nearpod can be the carrot that drives teachers to utilize the LMS with fidelity, then it's a win-win. Also, let's not forget about the Google Slides Add-On, ability to upload Powerpoints, Zoom integration, Microsoft Teams integration, and more.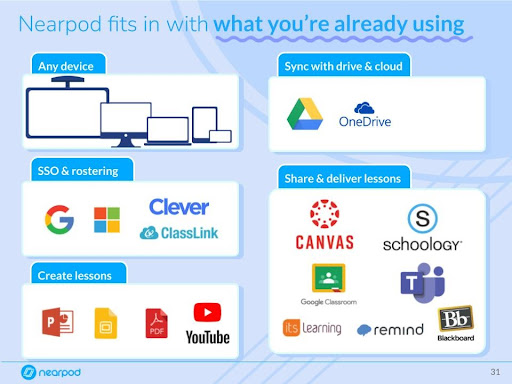 5. Eliminate redundancies and save some $$$
As a dedicated principal who understands that teachers make the world go around, the last thing we ever want to tell them is "no". However, in reality, there isn't an infinite amount of funding available, so we oftentimes have to make tough decisions around what resources to keep or let go. Lucky for you, Nearpod's 20+ features can provide the same or similar functionality that your teachers might love in other resources. Nearpod can be your one-stop-shop, and most importantly, with one price.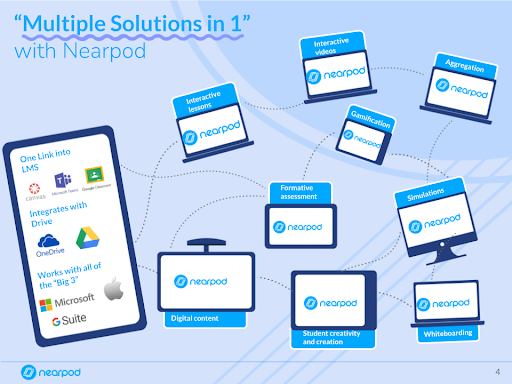 6. Deliver the content in an engaging way
As principals, when we observe classrooms, usually the first thing we are looking for is, "are the students engaged?" Any of us who have stood in front of a classroom of 24 third graders, 32 eighth graders, or 36 sophomores knows how challenging it is to engage students. I mean, look at the competition: cell phones, Youtube, TikTok, Instagram, home life, peer pressure, and the list goes on. However, if the students are not engaged, then even the best lesson on paper will fall flat. Nearpod provides 12 different means of representation through multiple learning modalities to scaffold instruction and increase student engagement. I like to think of the features below as falling in the "engage and teach" bucket of all that Nearpod offers.
7. Assessments and real-time data
As a principal, there is nothing worse than knowing your teachers are "teaching their heart out", and not seeing the achievement results that we desire on quizzes, common assessments, etc. Nearpod streamlines 11 different means of expression for students to provide teachers with valuable feedback throughout the lesson. Teachers can leverage these "checks for understanding" to uncover misconceptions, see trends in learning, and eliminate surprises. The real-time and post-session data informs instruction and allows teachers to pivot quickly if students need reteaching, small group support, additional practice, and so forth.

8. Flexibility Across Learning Environments
Principals have never had to manage as many variables as they do currently. Covid-19 and its variants have created a context in which many principals and school districts must not only be able to offer both in-person and virtual options, but also be able to pivot quickly from in-person to remote should the need arise. Any Nearpod lesson can be launched in-person or remotely, and both Live (Synchronously) or Student-Paced (Asynchronously). This is key, for several reasons:
Creates opportunity to teach kids in the classroom and at-home simultaneously
Teachers can plan lessons in Nearpod with confidence and peace of mind
Save teachers planning time in the event of an emergency
Support Flipped classroom assignments and independent in-classroom activities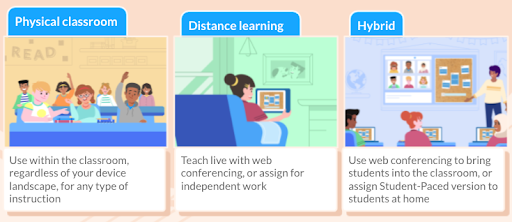 9. Admin can use Nearpod to model and make meetings more engaging
As a principal, how often do you get to model what you expect from your teachers in the classroom, specifically around engagement and instruction? With Nearpod, principals can use the same 20+ media and assessment types to breathe new life into PD sessions and faculty meetings. In the classroom, teachers often ask a question and only the same three hands go up. In many instances, faculty meetings and PD sessions aren't much different. As a principal, imagine being able to use Nearpod's Poll or Collaborate Board to hear from ALL staff about pressing issues, or to review key information in a fun, competitive way using Time to Climb.
10. Built-in features to support diverse learners
Principals are charged with ensuring the highest quality of instruction for all students in the building. There's not a silver bullet for supporting diverse learners, but principals can be confident that when teachers are using Nearpod, there are scaffolds and accommodations (i.e. Microsoft Immersive Reader) built into lessons. Whether a student needs to be able to reply in audio, needs text-to-speech support, translation support, or just a different way to demonstrate their learning (draw-it, open ended, multiple choice, video, etc.), Nearpod can support.
Unlock the full instructional power of Nearpod with the unlimited access, collaboration, integrations, and support your teachers need. Interested in scheduling a demo or want to learn more about how Nearpod can support your teachers?
Ike Ramos is a former school principal and instructional leader. He has experience writing curriculum as one of Flocabulary's songwriters and performers, and has trained thousands of teachers and principals across the globe on how to use Nearpod to impact engagement and instruction. His passion for combining education, technology, and music has allowed him to entertain and educate people from all walks of life!