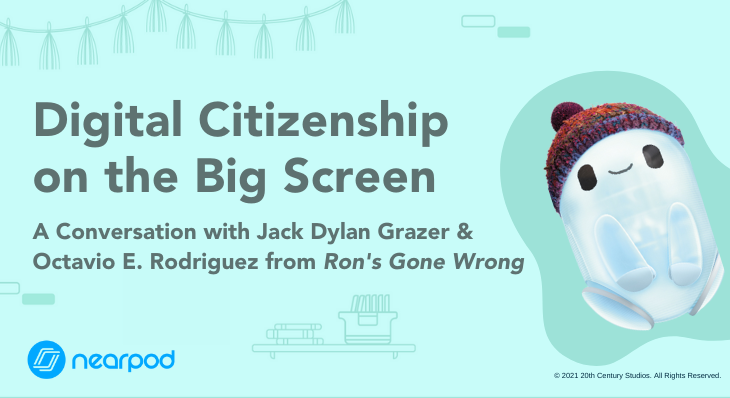 Digital Citizenship on the Big Screen: A Conversation with Jack Dylan Grazer & Octavio E. Rodriguez from 'Ron's Gone Wrong'
Another Digital Citizenship Week is in the books! This celebration, which takes place annually every third week in October, is timely considering that classrooms are well underway with routines set. While the week itself is a good reminder to make sure that expectations around use of digital devices are clear, we know it is never just about the devices … true digital citizenship lies within the people who are using such devices. So to that end, these habits of mind deserve much more than just a week; they need to be reinforced all year long. As our responsibilities grow and compile with more access to online sites, social media, and apps, our skill sets and mindsets need to continue to develop and mature.
But don't fear — there are many ways to continue the conversation! Debuting in theaters today is Ron's Gone Wrong, an animated comedy adventure from 20th Century Studios and Locksmith Animation. The movie illustrates the wonderful messiness of friendship as a socially awkward middle-schooler, Barney, grapples with his walking, talking, digitally-connected device, Ron. Ron is supposed to be his "Best Friend out of the Box," yet despite being a clever robot, they both learn how friendship is a two-way street. Set in a more advanced digital world, the story arc underscores that sometimes you have to disconnect to make a true connection. Plus it emphasizes that technology isn't good or bad, but it's how you use it.
Imagine a device that is the fastest, most advanced, complex piece of technology in the world, But what if it wasn't just a device? What if it was your new best friend?
Nearpod lessons in partnership with 'Ron's Gone Wrong'
The movie debuted just at the close of this year's Digital Citizenship Week, but to keep the conversation going, Nearpod has just released 40+ learning activities for grades K-2 and 3-5 around the themes of:
Connection
Balance
Respect
Distractions
Creativity
Use clips from Ron's Gone Wrong to inspire your students to consider how digital devices do or don't play a role in their daily lives. Challenge them to think about the opportunities technology affords, while reminding them to avoid some common pitfalls. You may want to share these activities for live participation in the classroom or send them home as student-paced exploration and practice. It's never too young to have these conversations in order to help establish healthy habits of mind!
'Ron's Gone Wrong' + Nearpod Giveaway 🎉
To celebrate these proactive mindsets, we are also hosting a giveaway in partnership with 20th Century Studios and Locksmith Animation. Read Terms & Conditions here.
We're giving away two classrooms a set of Ron's Gone Wrong movie tickets and mini-movie posters!
Retweet this post
Comment under the post how you can model healthy device habits!
Winners will be chosen on November 5th, 2021. Good luck!
A Conversation with Jack Dylan Grazer & Octavio E. Rodriguez from 'Ron's Gone Wrong'
We had an opportunity to have educator rockstar Darin Nakakihara connect with talent from the movie: Jack Dylan Grazer, the voice of Barney, and Octavio E. Rodriguez, co-director and voice talent. Not only did they give shoutouts to their favorite teachers of all time, but they talked about how the themes of the movie resonated with them and their thoughts on today's digital world. In the face of social media, they both shared how much they value differences of opinion and different points of view, and how such perspective can help one grow. Throughout the conversation, Jack and Octavio answered questions submitted virtually by students. They reminisce on the ups and downs of creating the movie during COVID, and they both spoke to the art of storytelling and animation. Share this video with your class to jumpstart some new #digcit conversations inspired by the big screen.
Coming next week, you'll find a brand new suite of interactive digital citizenship activities for both grades K-2 and 3-5. These 40+ activities revolve around the movie's themes of technology, connection, respect, balance, distractions, and creativity. You may want to share these activities for live participation in the classroom or send them home as student-paced exploration and practice. Split the content over days or weeks to continue and further your classroom's conversation about all things digital citizenship.
Keep me in the loop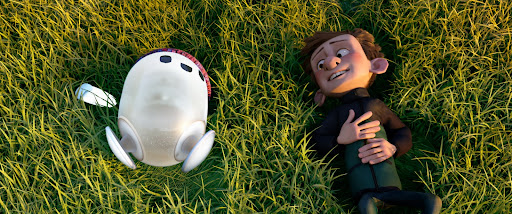 Darri Stephens is a dedicated LX (learning experience) designer, passionate about creating quality content and programs for kids, families, and educators. Her combined background of teaching in the classroom plus working in research, development, and marketing for the wonderful world of children's media and educational technology, has given her a wide breadth of skills to help engage all ages in the pursuit of lifelong learning. With MAs in Education from both Harvard and Stanford, and work experience at best-in-class ed tech organizations including Wonder Workshop, Nickelodeon, and Common Sense Education, she is steeped in the design thinking process and committed to agile and iterative project management, which has resulted in multi-award-winning programs and products. Darri now runs her own content consultancy agency, Darrow Ink, working with leading education platforms to develop quality programming and inspire educator engagement.